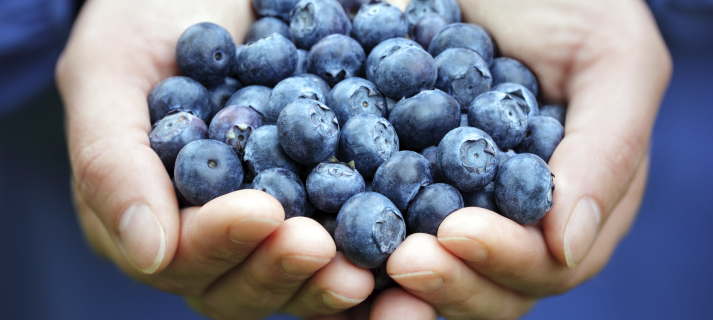 Summer's bounty offers us so many health-promoting superfoods that it's impossible to highlight any single one.
What are superfoods, exactly? you may be wondering. Superfoods are plant-based foods containing phytonutrients that help to prevent and/or treat the symptoms of disease. These phytonutrients are often part of the plant's unique defense system, protecting it from the weather, water supply, pests, fungus and molds, and animals that may feed on them. When we consume these foods, ideally in an organic form to avoid the toxic burden of pesticides, we benefit from these phytochemicals. And when we consume a variety of these potent vegetables, fruits, herbs, spices, nuts, and seeds, rather than large portions of one to the exclusion of others, then we obtain maximum benefit.
Our access to these powerful fruits and vegetables ebbs and flows from season to season, but three of the most important ones I've been seeing lately at the supermarket are blueberries, cherries, and tomatoes. Here's why you should be filling your shopping bag with these superfoods right now—and how you should prepare each of them to bring out their unique and satisfying flavor.
Blueberries
Despite their small size, blueberries rank as one of the most nutritious fruits we can indulge in. When consumed in moderation, these tiny powerhouses can lend us significant health benefits.
Blueberries are packed with antioxidants known as anthocyanadins, a subgroup of the phytonutrients known as flavonoids. Anthocyanadins are what form the colorful pigments that give many fruits and vegetables their colors, including the deep indigo of blueberries. Other phytonutrients found in blueberries are hydroxycinnamic acids, hydroxybenzoic acids, flavonols, resveratrol, and pterostilbene.
In addition to providing antioxidants, blueberries are a good source of fiber. And, like blackberries and strawberries, blueberries have a low glycemic index, thus favorably impacting blood sugar control. They are also a moderate source of vitamin K, vitamin D, and manganese.
Blueberries have been researched for the their potential positive impact on cardiovascular disease, neurodegenerative disorders, type 2 diabetes, and eye health, as well as cancer prevention. However, people dealing with oxalate-related health issues, like kidney stones or digestive problems, should avoid eating this berry.
Blueberries, like all other berries, should be organic. Because of their fragile skins, blueberries should only be washed just prior to consumption. And although the season of fresh locally grown blueberries is short, they can be frozen for three to six months, therefore extending their availability beyond the summer season.
Cherries
For those of us who wait patiently for cherry season to arrive, it is hard to restrain ourselves and not overindulge in these sweet, tart berries. Luckily, we don't need to, as they're one of the summer's healthiest fruits.
Cherries are not only delicious but also incredibly nutritious, delivering a multitude of phytonutrients that exhibit many health-promoting and disease-preventing benefits. They contain a range of potent antioxidants, including some that exhibit anti-carcinogenic, anti-mutagenic, and anti-inflammatory potential (like queritin, ellagic acid, and perillyl alchohol). In addition, cherries are also recognized for their ability to relieve the symptoms of gout and support the body's circadian rhythms due to their melatonin content.
Though the cherry season is short, we can continue to benefit from this superfood by incorporating 1–2 ounce servings of organic cherry juice concentrate or 2-tablespoon servings of unsulfured and unsweetened dried Bing cherries into our menu through the remainder of the year.
Tomatoes
Though the tomato is widely considered to be a vegetable, it is actually the fruit of the Lycopersicon esculentum plant. And, botanically speaking, it is not only a fruit but also a berry, since each tomato is formed from a single ovary.
For years, tomatoes have been prized for their lycopene, a phytonutrient that is actually the pigment associated with their deep red or orange color. In addition to lycopene, tomatoes are a treasure trove of many other phytonutrient antioxidants, including flavones, flavonols, hydroxycinnamic acids, carotenoids, glycosides, and fatty acid derivatives, as well as vitamin C. Tomatoes are also a good source of biotin (one of the B vitamins) and several minerals, including molybdenum, copper, and manganese.
The most familiar health benefit many of us associate with tomatoes is their antioxidant and anti-cancer potential. While not well researched for all types of cancers, tomatoes have been repeatedly shown to lower the risk of prostate cancer due to the presence of the phytonutrient alpha-tomatine, which exhibits the ability to alter the metabolic activity of developing prostate cancer cells as well as to activate cell death in fully formed prostate cancer cells. Research on alpha-tomatine has also been conducted for non-small-cell lung cancer.
The benefits of tomatoes have also been investigated in cardiovascular disease, bone health, and some neurological diseases, including Alzheimer's.
Superfood Recipes
While the season of organic local berries, cherries, and tomatoes is short, all three of these superfoods can be stored by canning, freezing, and dehydrating them, or by preparing them into sauces, salsas, and jams that can be enjoyed through the fall.
But for now, while the season lasts, embrace these flavors of summer and access their nutritional benefits with these easy recipes.
Super Blueberry Energy Bars
Ingredients:
1 cup chopped pitted dates
½ cup almonds (or other nut of choice, such as pecan)
½ cup raw pumpkin seeds
2 tablespoons chia seeds
2 tablespoons flax seeds
½ cup blueberries
2 scoops vega or hemp protein powder
½ cup almond butter (or other nut butter of choice)
Equipment:
Food processor
8×8 pan
Process:
Place all ingredients in a food processor and process until well combined.
Press into the 8×8 pan and refrigerate for 1 hour. Cut into 6–8 bars and store in refrigerator until ready to eat.
Savory Cherry Compote
Ingredients:
1 pound Bing (or other sweet) cherries
2 tablespoons raw sugar
2 teaspoons balsamic vinegar
¼–1 teaspoon fresh thyme, minced (or to taste)
Equipment:
Skillet
Process:
Cook the cherries with the sugar in a skillet on medium-high for about 4 minutes, stirring occasionally. Gently stir in the vinegar and thyme and cook for 1 additional minute. Remove from stove.
Serving Suggestions:
Bake slices of premade polenta and top with fresh goat cheese and a dollop of warm cherry compote.
Cut the top off a 7-ounce wheel of brie. Place on a baking sheet and bake at 450 degrees Fahrenheit for 5–7 minutes, or until the brie is melted. Top the melted brie with warm cherry compote and serve with rounds of fresh baguette or crackers.
Prepare and grill lamb chops. Cook to taste. Serve with warm cherry compote and a mixed zucchini and summer squash salad.
Roasted Tomato Gazpacho
Ingredients:
10 medium tomatoes (beefsteak or roma), sliced
Cold-pressed extra-virgin olive oil
Small head of garlic
1 large shallot
1 medium red or orange bell pepper
1 large English (hothouse) cucumber
¼ cup packed fresh basil leaves
1 tablespoon white balsamic or champagne vinegar
Himalayan salt
Black pepper
Avocado (optional)
Equipment:
Large baking sheet
2 ramekins
Blender
Process:
Turn oven to 375 F.
Line baking sheet with parchment paper. Place sliced tomatoes face-up on the baking sheet and then drizzle with olive oil and Himalayan salt.
Carefully slice off the top of the garlic bulb, exposing the cloves. Place in ramekin, drizzle with olive oil, and sprinkle with Himalayan salt. Place on baking sheet between tomatoes and cover with parchment paper.
Slice root end of shallot, peel off skin, place in ramekin, and then drizzle with olive oil and sprinkle with Himalayan salt. Place on baking sheet between tomatoes and cover with parchment paper. Roast the tomatoes, garlic, and shallot for 1 hour, and then remove from oven and allow to cool.
While vegetables are cooling, turn the oven up to 475 F. Brush the bell pepper with olive oil and roast for 30 minutes. Check the pepper periodically and turn every 15 minutes with tongs to ensure the whole skin is charred black. Remove the pepper from the oven and allow to cool. When the pepper is cool, peel the skin and remove the seeds.
When the roasted vegetables are cool enough to touch, squeeze the garlic cloves and shallot out of their skins. Peel the English cucumber, slice lengthwise, and scoop and discard seeds.
Place the tomatoes, garlic bulbs (use enough to your taste), shallot, and all the juice from the pan and ramekins into the blender. Add the roasted pepper, cucumber, and basil. Puree till smooth. Add the vinegar, salt, and pepper to taste. Strain and cool in refrigerator overnight.
Serve in individual bowls topped with small chunks of avocado and garnish with fresh basil leaves.
Bon appétit.
(Original post on Bookshop)